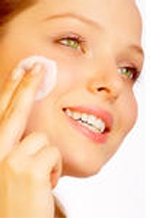 The skin is often known as "the largest organ in the human body". This applies to exterior surface, as it covers the body, appearing to have the largest surface area of all the organs. Moreover, it applies to weight, as it weighs more than any single internal organ, accounting for about 15 percent of body weight. For the average adult human, the skin has a surface area of between 1.5-2.0 square metres, most of it is between 2-3 mm thick. The average square inch of skin holds 650 sweat glands, 20 blood vessels, 1000 melanocytes, and more than a thousand nerve endings.
The outermost epidermis is consists of stratified squamous epithelium with an underlying basement membrane. It contains no blood vessels, and is nourished by diffusion from the dermis. The main type of cells which make up the epidermis are keratinocytes, with melanocytes and Langerhans cells also present. The epidermis can be further subdivided into the following strata (beginning with the outermost layer): corneum, lucidum, granulosum, spinosum, basale. Cells are formed through mitosis at the innermost layers. They move up the strata changing shape and composition as they differentiate, inducing expression of new types of keratin genes. They eventually reach the corneum and become sloughed off (desquamation). This process is called keratinization and takes place within about 30 days. This layer of skin is responsible for keeping water in the body and keeping other harmful chemicals and pathogens out.
The main cell types of skin are fibroblasts, adipocytes (fat storage) and macrophages. Sebaceous glands are exocrine glands which produce sebum, a mixture of lipids and waxy substances: lubrication, water-proofing, softening and antibactericidal actions are among the many functions of sebum. Sweat glands open up via a duct onto the skin by a pore.
Functions of the skin are disturbed when it is dirty and it becomes more easily damaged. The release of antibacterial compounds decreases. Dirty skin is more prone to develop infections. Cosmetics should be used carefully because these may cause allergic reactions. Each season requires suitable clothing in order to facilitate the evaporation of the sweat. Sunlight, water and air play an important role in keeping the skin healthy.
The skin supports its own ecosystems of microorganisms, including yeasts and bacteria, which cannot be removed by any amount of cleaning. In general these organisms keep one another in check and are part of a healthy skin. When the balance is disturbed, e.g., by antibiotics which kill bacteria, there may be an overgrowth and infection by yeasts. The skin is continuous with the inner epithelial lining of the body at the orifices, each of which supports its own complement of flora.